End of year : We are now entering into our 5th year. Wow. Hard to believe we've made so many products and helped so many guys feel confident in their skin with gear that is custom made to fit their and your changing body.It seemed only just awhile ago that we took over the business from TSW/Rainbow Athletics to move forward with new products, packnplays, packers and a huge array of underwear and harnesses We continue to add new products every month to assist you with your transition. Never in a million years did we think we would hit year 5 with such enthusiasm and passion to keep going for another 5. Our motivation grows each time we get an email from one of you who tells us how life changing wearing our gear has made a difference in your life. It is this type of note that makes us realize how important our gear is. It's not just a packer or a pair of underwear, it is a vote of confidence, of feeling right in your skin being who you are meant to be. This is what separates us from other stores that in addition to everything else, they just happen to sell packers or a harness. It is our FOCUS, our GOAL, to help with this confidence and living your life with authenticity, being who you were meant to be.
So thank you, being who you are has made us who we are and who we will continue to be for you. To revive the dying are of customer service and to provide more and different gear to assist you life your life authentically. Here's to another 5 years and to all of our successes in the years to come.

2015: We've come into our 4th year, thanks to all of you. Our inventory has grown and increased in quantity and quality. We now offer BulletBriefs style inserts, a secure way to pack or use your STP. We have joined an alliance of other FTM business', TSW Enterprises , FormFunction and ECProsthetics to offer great product and pricing for a one stop shopping experience. Our custom packer and STP line has doubled in size and is still growing thanks to the alliance with other businesses.

September : IMHO: It's all in a name...or label...or pronoun: It's a new world, in the year 2013, the awakening of trans-youth to find the courage to come out, to their families, friends, school mates and the world at large. Unlike generations before, stealth is not necessarily the method of which these new youngsters live or want to live their lives. Third gender, gender queer, gender variant is eeking it's way out as well. Jumping away from the gender binary, not feeling the force of having to choose, they can now claim they live in the lives of both genders. This claim, this ability to make choices and not feel they have to live in one or the other gender, no matter what sex their body was born into, is the new pirate generation. Rabble rousers among the older generation who lay the path that gave them the ability to stake these claims. Some eyeball this with disdain, with the "how dare you?" and want them to choose, to lay claim to the trans-man or trans-woman label. Yet, this is not how or who they are. It's become a political chaotic conversation among the trans community. Where you land on the gender spectrum is no one's journey but your own. No one can name or label or live your life, and if there is no pronoun that matches who you are does not make you less of a human, or part of the community. It only means you are ahead of terminology and it will eventually catch up, and then you too, will have layed down the path for those who will follow, just like those ahead of you.

July : So we are at about the 8 month mark of owning this business and I have to say it is and has been an amazing opportunity for me as a person and as a trans person in the community. The internet makes it so that people can feel safe ordering our products from the safety of their home, since I know so many areas in this world, let alone families, are not open or diverse enough to understand the TG world. My goal operating TranZwear is to offer security and confidence in packing. To allow each person to feel comfortable for what feels right for them. My products and what I hope, my positive customer service, gives each person the ability to choose what is right for them. Customizing each product helps me send each item on it's way with a personal service attached. Quality product, customer service are dying arts unfortunately, and I can only hope that what I offer renews peoples faith in all of that again, especially with products as private as boxers and swimwear. Enjoy the rest of your summer....and pack with confidence!.....Den
April

The summer is quickly approaching. TranZwear is prepared by offering you swimwear, shower briefs, and now TSW Pack n Strap harness'. As well as our quick dry athletic style boxer briefs and trunks. The moisture wicking material keeps you cool, and sweatfree. This summer is also unfolding into an event filled 4 months for TranZwear. On June 25-26, we will have a booth at San Francisco Pride 2011. Look for us near the Tranny Pavilion. We'll have special pride pricing packages, and quick sale reduced items as well. On Aug 5th-7th, we'll be heading up to Seattle for the 10th Annual Gender Odyssey, for the conference as well as having a vendor booth. Again, we will have special pricing for the event. TranZwear is a media sponsor for Gender Odyssey this year. https://www.genderodyssey.org/ Later in the month, Aug 18th-21st, Butch Voices conference in Oakland, CA we will be hosting a vendor booth there as well. https://www.butchvoices.com/conference/And last but not least, Southern Comfort Conference Sept 20th-25th.

March

I heard from a customer today about how his packer and new trunks made him feel like a new man, he wanted to wash them every night so he could wear them every day. Feeling good in one's skin is such an important factor to self esteem and to being able to keep your eyes forward in your path. I am happy that our products help contribute to this feeling for some folks. Our goal is to provide a quality product to fill a gap that is not available anywhere else. But the key piece for me is that I can support my community one person at a time, while also donating where and when I can to help out in the bigger picture. My own journey has taken a long winding path to land me right where I have always known I would be, smack in the middle. Being born in a female body, and having a male gender makes us genderqueer folks a unique group. I am happy to have my female history and traits, and my male gender attributes make a great blend of human I have grown to accept. As they say, the best of both worlds. I can't deny those parts of me, my history and experience make me who I am today. I present as male publicly, since people have to put you in a box. they just have a need to categorize. It is easier since they no longer stumble with ":Uh sir, uh ma'am". I understand that my FTM brothers need that 100% male identity to be able to move forward, I salute your efforts and hard work to make that happen for yourselves. Comfort in your skin....is a key element for us all.
March
Today I calculated the totals from my sales for the month of February so that I could calculate how much TranZwear is donating to Lyon Martin (see my Community page) I am proud to announce that I will be writing a check for $350 to Lyon Martin, to help them continue to serve the trans community here in San Francisco. Thanks to you, my customers, thru your loyal support of TranZwear, you become a partner in providing donations and support to our communities. Keep watch for our next community donation.
March

TranZwear is a small niche market business aimed at the trans, genderqueer and FTM community, although butches, bois, and drag kings are among my customers as well. I bought this business from a trusted friend and businessman. I have grand thoughts of slowly growing the business and giving back into the community as I am able. I naively never thought I would run into other folks in the community whose behavior and actions would bring negative and divisive trouble into my world. Over what I ask myself? My theory is that there is plenty of room for our small businesses, no matter what product is being sold. As well as loving running this company, I will also protect it with all my might. My integrity and responsibility to the community is very important to me. A note to those who want to try to divide the community by trash talking about other business owners on their public websites, WE WON'T TOLERATE IT. Everyone knows that some people work very hard at ego based self fulfillment while at the same time attempting to pull others down. Apparently there is a history of this, and maybe since I am new to the block, I am now a target. But I share mutual support with both the community at large and individuals. My record speaks for itself. Don't let negative, unethical people do harm, ignore their BS and know that there are many of us who stand strong to protect our community and our businesses. TSW and TRANZWEAR have formed an alliance to provide support and quality products to our community through honest and respectable business practices and ethics.
I thought this was worth putting in here for a bit of humor....WTF? What is a non-gender child I ask? LOL'.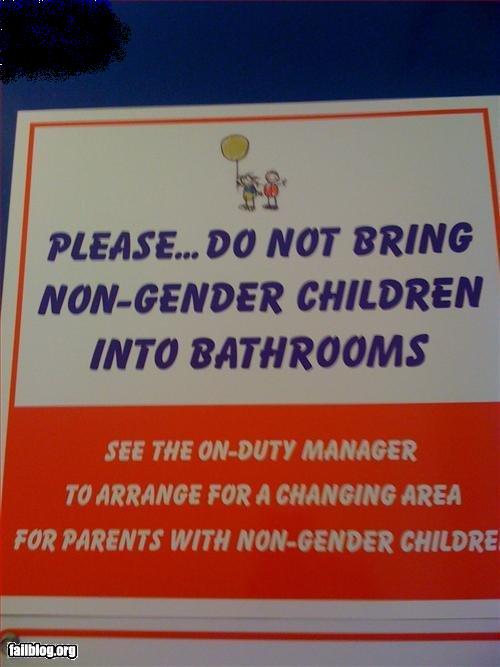 google5461aea5975b6ddc.html