Sizing: VERY IMPORTANT! All of these products are sized using standard MENs sizing. US Men's sizing is different from US women's sizing, as men's and women's bodies and shapes are different. Please pay close attention to the size you choose. Mens sizing goes off the assumption that most of men's bodies have waist and hips that are relatively the same size. So a size 30 means both waist and hips are 30". If you have a noticeably different hip size than your waist, please order accordingly. These are custom made products and we cannot take them back once they have shipped. If you have any questions about size, please email me with the product you have in question and I can help you choose the right size for your body. Our goal is to get you into a comfortable pair of boxers/harness. Trying to put your 34" body into a 30" pair of underwear is not going to work, and then we are both unhappy with the end result. The same goes for any of the harness" or jockstraps. They are not stretchable, a 30" is at it's max at 30". When in doubt, or if you are in between sizes, go up a size.
It is unfortunate that there is a social stigma in the raising of females in the US that creates a mindset so that many female born people hide or are dishonest about their body size, causing shame and discomfort. As you guys are going thru transition, with or without T, your body is changing and our goal here at TranZwear is to accommodate you and your body with the best fitting underwear possible. For our products, you must take an honest measurement of your waist and hips and order the corresponding size. Again, our desire is to help you be comfortable and confident while you pack. Help me do that by ordering the correct size of underwear/harness.
Take your measurement at belly button level, this is where the majority of men's underwear will ride. If you are ordering the Athletic style Trunk/boxer brief, this item is the only one that is "low rise" , and it rides below the belly button, so you need to measure right below the belly button for this style.
Measure your hips mid butt level, and if you are more than 3" different than your waist, you may want to consider ordering the next size up. Snug at the waist and super tight across the butt will make the boxers ride up and be very uncomfortable as the day wears on. Better to have a good fit all the way around, especially when you are adding bulk to the front with a packer.
Email me with any questions if you still aren't sure what size to order. I'm relatively quick to answer any questions, and respect privacy. ......Pack with confidence and comfort.....Have fun!

Binder sizing: Measure around the widest part of the chest at the nipple line. Pull tape snug, but not over tight.
Our binders are corset binders, made for those with less than C cup. The sizing will not necessarily be the same as any other bra,compression garment or sports bra that you are used to wearing.

Harnesses: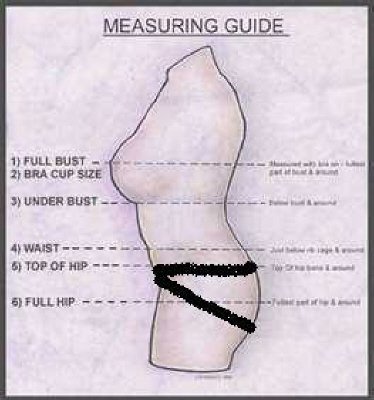 Be very careful about sizing. Due to health regulations and the custom work involved, we cannot accept returns of our jockstraps or harnesses just because you ordered the wrong size.
Please pay attention to the statement above. We make all of our garments from scratch, and making sure that you get the correct size is one of our highest priorities. The most common question we get through the site is about sizing.
When ordering our custom-made items, the sizes listed in the drop-down boxes are true measurements. Our products are meant to fit snug against the body without binding. This is especially true of our packing products since they are meant to hold a soft pack or STP. The last thing you need is to have things moving around or hanging inappropriately.
If you order a size 34, it is meant to fit a 34 waist comfortably. It is not meant to fit a waist size larger than 34.
So where is the "waist?" For our jockstraps and harnesses, including all Pack N Strap products, and Jocks, we make our garments to fit in between the belly button and the hip bone. This may or may not be lower than where you consider your waistline. This is also not necessarily your jean size.

If you have any doubts about your correct size, please use a tape measure and wrap once around the stomach between the belly button and the hip bone. Do not measure over clothing. Pull snug, but not binding. Although most of our clothing items have elastic waistbands, you will be much more comfortable if you order a true size.
Another measurement that you might want to check is the length for the rear and leg straps. Our jockstraps and harnesses come with a standard rear strap length of approximately 1/2 the length of the waistband. In other words, a 34 inch waistband garment will have leg straps of approximately 17 inches, however our knitted elastic has a stretch of 2-3 inches. Rear straps generally start mid-crotch and rise up to the waistband. Leg straps are a bit longer. Small is 16-22, Med 18-24, LG 20-26 etc. If you want to insure exact fit, measure the upper most area of your thigh, and list this info on your shopping cart and we'll custom make the leg straps.

For harnesses with leg straps, please measure around a single leg, right at the crotch area.

During the check out process, you will find a comment box that allows you to include additional instructions with your order. Please feel free to put your exact measurements for both waistband and leg straps in the comment box.
While we do everything we can to make sure that you get the correct size, we depend on our customers" specifications when ordering. Once the product goes out to you, health regulations do not allow us to accept items back.