Each item is made from scratch, by TKW and by BulletBriefs, and quality is a huge priority when these are made for you. Please be very careful about sizing. Due to the custom and intimate nature of the products, TranZwear/BulletBriefs cannot accept returns just because you ordered the wrong size.
So where is the "waist?" For our jockstraps and harnesses, including all Pack N Strap products, we make our garments to fit in between the belly button and the hip bone. This may or may not be lower than where you consider your waistline or your actual jean size.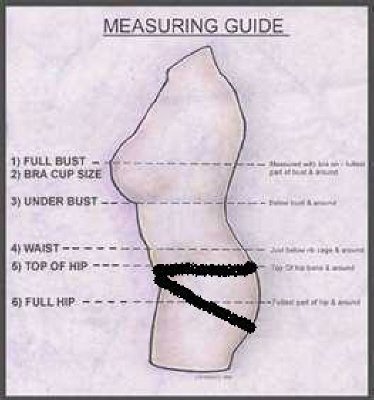 REVIEW FOR ALLnONE Sport Harness: Read it Here
Please be sure to give us the measurement as shown here in the drawing. Our harnesses do not fit at your "waist", but right below the belly button, and above the hip bones. This formula/design, allows for your packer to sit in the natural location
Remember to measure and order the correct sized C ring, both FreeTom and EC Prosthetic have much larger girthed STPs/Packers and need anywhere from 1.5" - 2" C ring. You measure across, not around, and remembering C rings stretch up to 1" beyond their normal size. We do not replace harnesses if you order the wrong sized C ring, we do not have examples of their products and have no way to know what size you need. It has been reported to us by users of their products that the C ring needed is larger due the bigger girth. Measure to be sure. This is the link to our page on C rings and sizing: Click HERE
If you have any doubts about your correct size, please use a tape measure and wrap once around the stomach between the belly button and the hip bone. Do not measure over clothing. Pull snug, but not binding. Although most of our clothing items have elastic waistbands, you will be much more comfortable if you order a true size.
Each harness has a different use, please check the description before ordering. We do have some that work with packing, or STP or Play, and some work in combination of those things. If in doubt, please email us and we'll help you find the right harness for what you are looking for. Be sure to use the measurement from below your belly button and not your waist or pant size. Our harnesses are not made to ride at your "waist".