PACK WITH CONFIDENCE WITH TRANZWEAR

Everyone has to start somewhere, and TranZwear® will cover all your needs -

So, packing? We all pack for various personal reasons. Some of us do it daily, every day and night, and some only on special occasions or only at work or school or dates. It is all ok. The point is for us to feel comfortable in our skin.

Packers...we offer the Sailor by Good Vibrations in 4" and 5" lengths. The newly revamped as of 2015 Sailor now carries the firm inner core for a more firm shaft feel and look. Either size works with all of our underwear, although the smaller of the two is suggested in our Athletic trunk style. We also carry the Mr. Liimpy line, from 3.5" to 8" in two colors. These are less firm than the Sailor, The Masho, one size is from Japan and is the only packer that has 3D balls. Packer Gear, Masho, PackIT, and Mr Limpy round out our packer line up.


Don't be afraid to try out different packers, because size is personal. For a natural look, you don't want something huge to have that "bowling pin" effect in your pants, go smaller than larger. It all depends on personal choice and also your body size as to what size packer feels the most natural for your use. We offer Mr. Limpy, a softer Real Feel Superskin made by Fleshlight LLC. Sizes from 3.5" to 8". This packer is softer. less firm than the Sailor. As well as the measurement on the Sailor is the shaft only, the measurement of Mr. Limpy is from the ball sac to the tip of the shaft. The TSW line of custom packers comes in a variety of firmness's, soft, firm, PackNPlay and Dildo, all described on the page.


Our underwear packing products work with whatever packer you buy, whether it be our packers or the other "Packys" or Mr. Right.

As far as a beginning choice of TranZwear® product, my suggestion for first time packers, or even for those that pack consistently, is to start with our Floater style or the BulletBriefs® line of inserts. The Floater has a lightweight pouch that is sewn to the waistband of whatever product you buy. The Boxer Briefs have a longer leg and are a bit looser fit. The Trunk is very short legged and a tighter fit, and the brief has no leg, fits more like women's underwear and, truthfully, is harder to pack with due to the packer having a hard time (no pun intended) sitting naturally in the briefs. The Floater allows you to place your packer in the right area inside the underwear, since the pouch is "floating" inside the inner area of the underwear. It will stay wherever you place it as your jeans/pants hold it close to your body. The only time the Floater is not suggested is when you wear loose pants or gym wear, as you need the tightness of your pants to hold it close to your body. The BulletBriefs® inserts all have a inner sewn in C ring, to slide the shaft of your packer or STP thru for a secure, snug fit.


If you do wear looser pants, shorts, or gym wear, you may want to get the Snuggler style or the Jock Pocket by BulletBriefs which is the same basic design as the Snuggler but has a sewn in C ring on the inner wall of the pouch to secure the shaft of your packer. The Snuggler has the same pouch, but it is sewn to the inner lining of the underwear as well as to the waistband. It will not move anywhere, still giving you the ability to place your packer where you feel it to be most natural.THe Bulletbriefs Jock Pocket insert is similar to the Snuggler but it has a sewn in C ring on the inner wall of the pouch to drop the shaft thru for extra security.


The Natural with the TKW PackRIght harness is made either for those who use an STP or want to be able to access your packer thru the front of the underwear. It has a latex c-ring for the packer to pass thru , with a small ball cage to hold it steady if you like; or, you can leave the packer in the Cring ring only. (if you use the Sailor, you need a ball cage). See photos on the design tab.

None of our underwear styles are made to use when you hard pack or Play, the increased activity will damage the custom fit pouches and c-rings as well as tear the Underwear.


We do have harnesses that are for packing, STP and Hard pack Dildo use. The harness" should be hand washed or in a delicate load inside a small separate net bag. The AllnOne Sport harness works for all needs; packing, STP and PacknPlay, as does the Hip Hugger.

No matter what style you choose, we will do our best to make you a quality product that you will love to pack with and you can just get throw them in the wash along with your other clothing.

The best thing about customizing items for you order is that you can let me know what works best for you. If you want your packer to ride low or high, then all you need to do is give me some dimensions to work with. The pouch I use for the Floater or Snuggler is usually about 7" long, measuring from the bottom of your waistband. If you want the packer to ride higher or lower, just request a pouch size that works for you.


Care and Feeding of your Packer

Softskin, also known as Cyberskin, is a very porous material; you should cover it with a condom to avoid it absorbing everything on and around it. It is suggested you wash it after each use, or daily. Just use plain liquid soap and water. After you wash it, it will feel somewhat sticky as it dries. Let it air dry, do not use a cloth towel or any type of paper towel. You can store it in a plastic bag to keep it clean between uses, but make sure it's totally dry before you do so. You should also dust it with cornstarch. Don't use talc or baby powder for this purpose; cornstarch is a safer product as it will not clog your own pores when it touches it.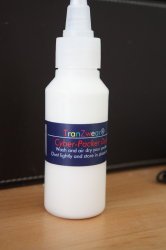 We now offer a small squeeze bottle container of TranZwear's "Cyber-Packer Dust". Squeeze the bottle to lightly dust your packer when not in use and store in the plastic bag that the packer will ship in. Whenever the packer is not in use, just follow the steps above to take proper care of your packer. He's your friend, treat him well, and he will reciprocate the pleasure…..Your friends at TranZwear®.
Cyber-Packer Dust….4 oz bottle $3.99
New To STPs:
They can be confusing. Spoon? Cyclone, Surge,Arrow, Cobra,Whiz..do I even want to start with a packing STP? How about the Pstyle? or the GoGirl? How about the non receptacle based by Form Function? Do these fit in my pants, can I wear it with my underwear and nothing else, do I need a harness? What size do I need, 4",5, 7" or 9"? Lots of questions go thru your mind when you are first trying to figure out what you want and what you might need. Maybe you desire to stand at the urinal or you want it in case there is no stalls and you have no other choice, or you just want to try this and see if it's right for you. All of these things are personal choices and no one makes the decision for you. What one guy uses is not necessarily right for you or your body type.

The STP's that we carry, all have been tested by numerous guys. None of our products are on the site without being tested and used by a lot of guys before they hit our shelves. We won't make you the guinea pig of our products, ever. My first suggestion is to try one of the non packing STP devices. These allow you to practice urinating standing up, in the shower, outside, on your own terms, in the privacy of your own home. Sometimes just standing to pee is the difficult part of all of this.

We use our medical grade PVC tubing in our STP's as it's the best long lasting usable tubing. After many many testings of various types of tubing. including Latex and Silicone, multiple sizes, we've come to use this tubing. The problem with latex and silicone tubing is that they are thin walled, and with the pressure of the packer, will eventually crimp, bend and/or collapse within the packer. This makes the STP unusable as you no longer will be able to expel urine thru the tube when the tubing collapses. So as soft these tubing's may be, they will fail and make the STP unusable.
Go check out my STP FAQs if you have other questions. Please email me with questions if you just can't figure out what one makes sense for you